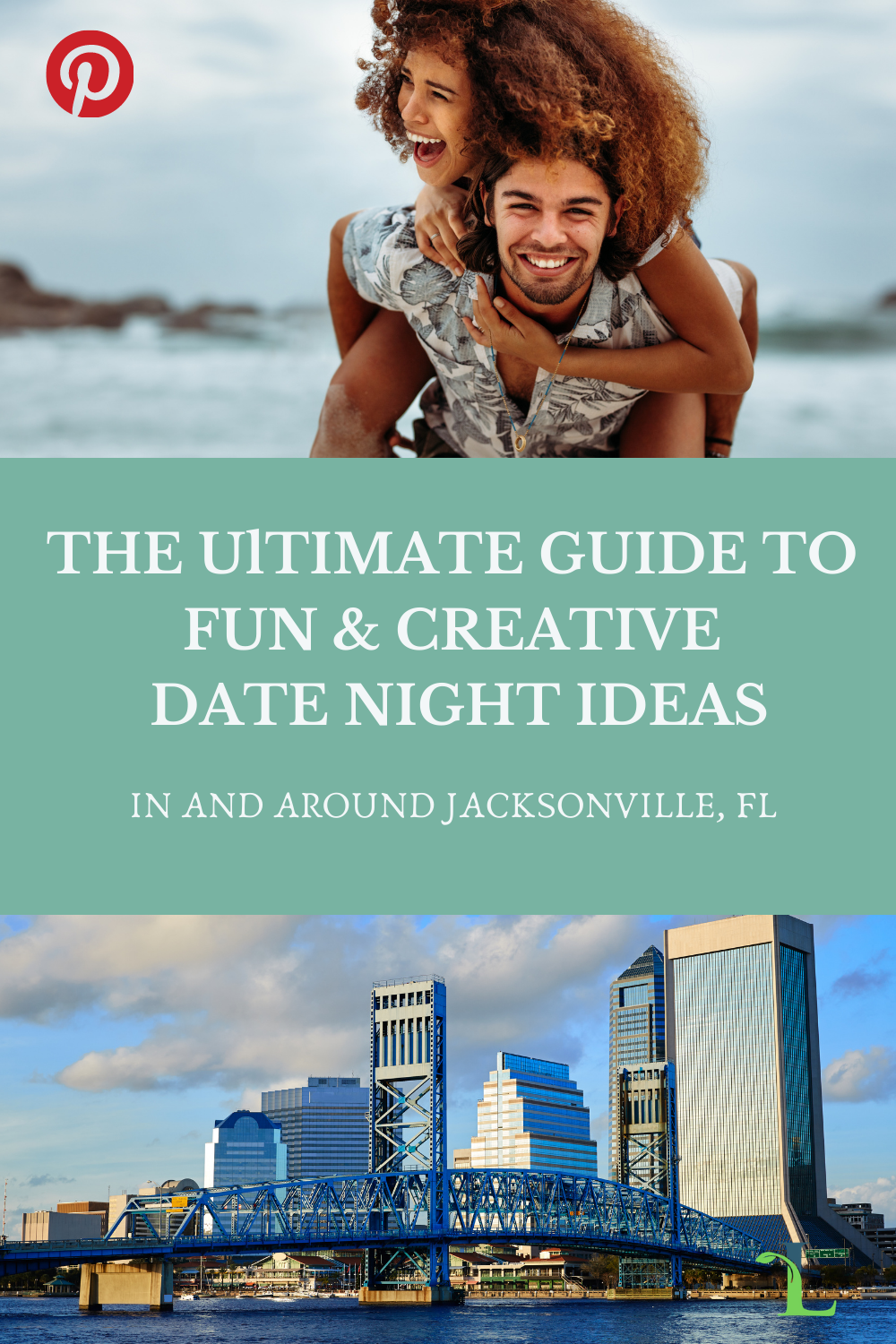 THE ULTIMATE GUIDE TO FUN & CREATIVE DATE NIGHT IDEAS
In and around Jacksonville, FL
One of the things I decided to focus on a few years ago was making sure I was intentional with dating my husband. So I started a list of date ideas I knew he and I would both like. Now a few years later the list has grown and is pretty awesome if I do say so myself. ;) Making this list surprised me in a couple of ways…

One, just the simple act of writing out a list of things to do with my husband made me happier and excited about all the potential fun awaiting us. We hadn't even done them yet and no idea when we would. And two, it's given me a new hobby to discover our city and new things for us to do.
I hope you enjoy these dates as much as we have!
Disclosure: This post may contain affiliate links that at no additional cost to you, I may earn a small commission. I only recommend products that I have or would personally use myself.

Escape rooms - We have done A LOT of escape rooms and my personal favorite up to this point was Gold Rush @ THE ESCAPE GAME near the town center and second favorite was one in St. Augustine that had a fun element to it. (Pro Tip: Always check Groupon first. You can often find discounts to the different escape rooms)

No babysitter? No problem. We've done a couple of "escape rooms in a box" but the one that I highly recommend is the Jumanji Escape room in a box We have played 3 rounds of this game and still have one more remaining. I like that it has the timer box that you insert keys and plays the background music to help the ambience of a different experience and it was so cheap!

Scavenger hunt – Lots of options with this but if you are looking for something done for you and a new way to explore Jax, visit Operation City Quest Then of course Pinterest offers a plethora of ideas for at home scavenger hunts.
St. Johns Town Center

Walk around, sit by the koi pond, have a coffee, play chess or checkers
Plenty of restaurants to choose from here

Jacksonville Arboretum and Gardens Go for a hike or walk along the 7 different trail options and then have picnic. The beauty is overwhelming here.
Ravine Gardens- Take a road trip to the gorgeous gardens and fun hikes from easy to strenuous depending on your preference. I was shocked at how beautiful this park is I'm sure you will be pleased. (great for families too, plenty of picnic areas $5 for parking cash)

Then picnic or lunch at the small local coffee shop

Geocaching Is your modern day treasure hunt. I've hyperlinked the best Geocaches in Jax. We still haven't done this but it's on my to-do!
Kayaking Endless options here in Jax. We've only done kayaking a few times but my favorite was Guana outpost. Beautiful view, easy kayak and close to our house.
Mural hunt- This has been a new fun tradition for us. Love discovering new murals around town. Follow @jaxmurals on IG for different locations I've hyperlinked to chic-booth's top 10 favorites. I will soon have my own top favorites.
Toon town- This is actually an Arts and entertainment complex that can be rented in part for special events, studio space but unique because it is covered in multiple cool murals great opportunity for a fun photo shoot.
San Marco Train Station Cute little area in San Marco with pretty umbrellas, you can have coffee from Setlan's coffee truck and enjoy outside seating with eclectic artwork and people watching. *Bonus you can also grab a sweet treat at Mayday ice-cream.
Hannah Park- Grab your bikes and take one of the biking trails, they have a beach area, fishing, kayaking, paddle boat and lots of picnic areas. If you have a weekend free, grab your tent and go camping.$5 car entry. *side note, lots of banana spiders here keep a prudent eye. LOL
Tillie Fowler Park- This place is a gem. Perfect for bike riding and just lose yourself in nature. Lots of options of things to do here checkout the hyperlink.
Downtown Library- Enjoy the beautiful architecture artwork & exhibits (Side note: did you know you can do 3d printing at the Main library downtown?Cheap too. Maybe you can get creative for a planned ahead date night and design something for your spouse, have it printed in 3d and surprise them.
Sweet Pete's Candy- This place is so cute. ( and practically across the street from the library) It has many great photo ops like walking into a small candy castle. Did you know they have adult candy making classes? Check out the different options here. They do have a café if you want to grab brunch. I can vouch that the food there is pretty good. Only open til 6 Tuesday-Sunday
Chamblin Bookmine- Note the name "book MINE" This is a unique book store in that it has rows to the ceiling of books and feels like a maze. If you enjoy nostalgic feel and smell of paperback books then this is a cute place to check out. There are two locations. The one we checked out was right beside the Main Library. * Hint: you can come here after your visit to the Main library or Sweet Pete's.
Ropes Course at UNF- Did you know they have a ropes course on campus? They have a low and high ropes course with 4 different zips that can take anywhere from 2 up to 6 hours depending on what you choose.We haven't done this here yet, but we've gone walking along the trails here and the campus itself is beautiful makes for a different and budget friendly date night
Urban Air trampoline Park: Be a kid for a day. This place is full of fun! They have a wipe out zone, warrior course, high ropes course. Excellent idea for a family outing too. Check out their different attractions here.
Grape and Grain- Dress up Great Gatsby style and go have some fancy cocktails at this speakeasy in San Marco area. When you are there look carefully as there is a hidden door that leads to sweet looking lounge area. Exciting right?!BONUS: You are in the historic San Marco area so take a walk around with your love and enjoy the pretty lights and statues in the square.Once we caught a Mariachi band practicing there.
The Volstead is another speakeasy that comes highly recommended. They do swing dancing on Sunday nights at 7pm.I am personally excited about checking this place out.
Hoptingers- We found this place on a spontaneous date night while walking around the 5 points area in Riverside. I'm recommending it here because they have a ROOFTOP BAR with beautiful views of the city. (The large open space to allow for social distancing.) For a list of other rooftop bars/restaurants in Jacksonville click here.

DOWNLOAD CHECKOFF LIST OF DATE NIGHTS

HERE

PIN THIS ARTICLE FOR LATER



Secret Tiki Temple- Has a cool lounge themed as a vintage "Tiki Temple"

You do need to call and make a reservation and they give you a SECRET PASSWORD! Cool right? * Currently the kitchen is under reservation so only the Tiki lounge area is open*

Talbot Island and Little Talbot Enjoy beachcombing, surfing, fishing, hiking, birdwatching, a winding kayak journey along the bluffs of Myrtle Creek and camping in a lush forest hammock. P.S. They have geocaches hidden here too ;)
I-Fly –Have you tried indoor skydiving? It's the closet that I will personally ever get to skydiving, lol. This was a very fun experience and amazing how your body is exhausted from just trying not to spin out of control LOL. This date night is a little on the pricey side for the first time but you can purchase return tickets much cheaper while you are there.
Autobahn Indoor Speedway: This is a fun experience with high speed go karts+ Axe Throwing+ Virtual Reality Games. (Way more fun than the go karts at Adventure landing in my opinion.)
Disc Golf- Did you know that Jacksonville has some of the coolest places for disc golf? Bring your own Frisbees. Here is a list of a few. Don't know how to play (like me)? Here is are instructions on how to play.
Mystery Dinner Detective –I enjoyed this date night so much. There is humor, you get to participate and good food. As a bonus you get to meet new people. P.S. You never know if the killer is sitting right at your table.
Cummer Art Museum: beginning at 4 o'clock is free admission (don't know how covid had affected that). Enjoy art then take a walk outside in their different Gardens. So relaxing.My second favorite part of the Cummer is actually the kids section.Yes, I have gone there without kids and had a great time. They have hands on activities there and some unique experiences that the adults can enjoy too.They are currently revamping the kid's area to be done sometime in 2021. Can't wait to check it out once complete.
Community Loaves Bakery in Murray Hill (Edgewood Avenue) you could have some lunch (open til 2pm) and then do a walking tour of painted murals and mosaics in the area. I mentions this place because it's unique in that they only prepare and sell local food.
Catty Shack Ranch Tired of going to the zoo? Check this place out. You get to see tigers, lions, cougars, leopards, lynx, coatimundis and foxes
Cumberland Island -In St. Mary's Ga. Go downtown (maybe take a walk around their beautiful park) and then hop on the ferry to explore the island. Tour the Dungeness ruins, see wild horses and other wildlife. Make sure to pack a lunch.There's a beautiful canopy of trees where you can also camp overnight.
Alpine Grove Park- walk around the trails, enjoy a walk around the butterfly garden, trails and along the water. Beautiful and relaxing scenery bring a picnic lunch too
St. Augustine-Lots to do here, but we have specifically enjoyed renting the scooters and traveling up and down the streets of St. Augustine ( I was terrified going on the Lions Bridge, LOL)

Prohibition Kitchen is a unique place for dinner and they often play live music
Old Time Photos: as a cute memory and always fun to dress up

Ice Plant- Love the uniqueness of this place. It's a farm to table restaurant with a vintage bar.The original Ice Plant building actually dates back to 1927.
St. Augustine Distillery- I don't normally enjoy tours. Truthfully, I find them too long winded and boring but the tour of the distillery was very well done and entertaining.We just went back recently and because of covid it's now a self-guided tour, but don't worry, you still have stations that you get to try their tasty local made drinks. Did I mention it's all FREE!*Pro tip:last tour is at 5:30pm. Go for a tour and then have dinner at the Ice Plant for a perfect date night.
Alligator Farm- You don't have to travel far for adventure. The alligator farm in itself is very cool experience. The feeding of the gators is crazy but my favorite part was the adrenaline of zip lining over the actual alligators.
Daytona High Ropes Course They train you how to zip and then they leave you too it. MAY not be the best choice if you have a fear and have never done it before.
Amelia Island – Check out the hyperlink for some fun ideas to explore this beautiful island.
Itchetucknee Springs - We are fortunate to live near so many springs. Itchetucknee is one of my favorites. We typically go in a group but one year we went on our own and it was just as fun. If you enjoying relaxing, floating, nature, this is for you.
PRO TIP: We are a couple (and family) that loves games of all kinds.So I always carry in my purse; Farkle (a super easy fun dice game), Monopoly deal (small card game, does have lots of rules but so much of a quicker game when it's just the two of us playing and still fun). Pass the pigs is another super compact and easy game to play. And this year we've added Five Crowns card game to the rotation.It can make waiting for dinner so much more enjoyable if games are your thing.
One more thing. As you can tell, we love escape rooms. I grabbed a book of riddles at the checkout counter of Publix last year and was honestly suprised that we had fun trying to solve some of the riddles together on a date night.
Adventurous Events
Jacksonville Great Amazing Race
Jekyll Island Treasure Hunt – usually occur Jan-Feb
I hope you find some new favorites!. Comment below your favorite date night spot or thing to do on date night in Jax.
WANT TO DOWNLOAD THE LIST OF DATE NIGHTS? Click HERE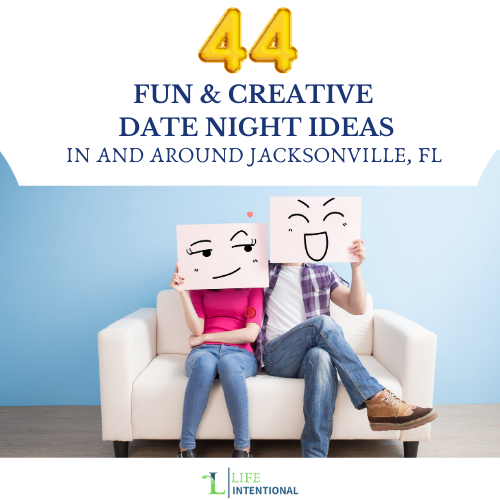 PIN THIS ARTICLE FOR LATER